Friday :: May 6, 2005
Public Rejects Progressive Indexing Of Social Security Benefits - Trusts Democrats More
by Steve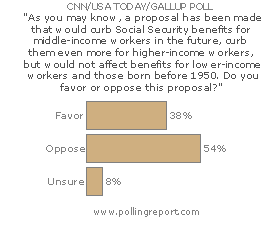 Today's AP/Ipsos Poll, taken through Wednesday, shows that Bush was unsuccessful in selling the progressive indexing of Social Security benefits towards the poor and away from the middle and upper classes. In essence, the GOP idea of turning Social Security into a welfare program is a dud with voters.
According to the poll, 56% are against giving up some of their Social Security benefits in order to let the poor have full benefits. This follows the results of the Gallup Poll earlier this week, which found that 54% were opposed to the Pozen progressive indexing proposal. More interestingly, the new AP/Ipsos poll shows that Democrats have opened up a 12% edge over the GOP in who voters trust to deal with the issue. The earlier Gallup poll also found that Democrats had a 10% edge over the GOP on the issue of trust.
Polls have consistently shown that the only fix for Social Security that voters support is raising the withholding ceiling.