Tuesday :: Aug 9, 2005
33% Want The Troops Home Now
by Steve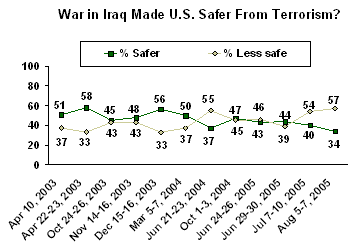 (Graphic courtesy of Gallup)
Some of you may have heard about the most recent Gallup poll for USAT and CNN out today, which showed among other things:
-33% want the troops home now, a new high;
-After a spike of support for the war, 54% now say it was a mistake, matching a high mark for Gallup;
-A similar number say the war was not worth it;
-56% now say the war is going badly;
-57% now say the war has made us less safe from terrorism, another new high.
Oh, and did I mention that this poll had more Republicans in it (32.9%) than Democrats (31.5%)?
Some other things to note in this poll:
Support for John Roberts has fallen eight points since July.
Check out the polling that Gallup did on Hillary.
The survey asked Americans to indicate whether each of six phrases applies to Clinton. Interestingly, Clinton is most positively associated with the phrase "strong and decisive leader," followed by "likeable," "cares about the needs of people like you," and "honest and trustworthy." More than half of Americans say each of these phrases describes her. Less than a majority of Americans say "shares your values" and "would unite the country and not divide it" apply to the junior senator from New York.
Other questions in the poll assessed Bill Clinton's impact on his wife's image. A plurality of Americans, 43%, said the fact that she is married to Bill Clinton makes them less likely to vote for her in 2008, while 30% said it makes them more likely to vote for her.
Does this mean Hillary Clinton should contemplate divorcing Bill Clinton for political reasons? Apparently not, at least based on the survey results.
About 6 in 10 Americans say such an action would make no difference to them, while the rest are evenly divided on whether divorcing would make them less likely or more likely to vote for Hillary Clinton.