Wednesday :: Sep 14, 2005
As Consumer Confidence Tumbles, Another Poll Shows Bush Hitting A New Low
by Steve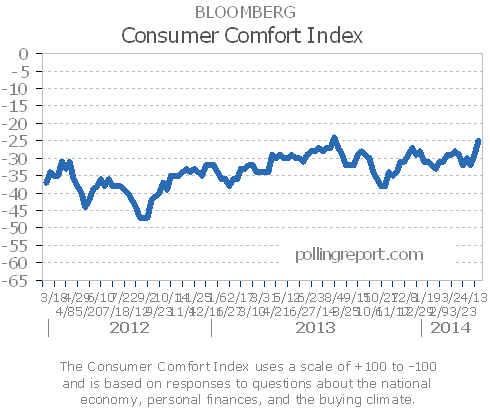 (Graphic courtesy of PollingReport.com)
At a time when the latest ABC News/Washington Post poll, among others, shows consumer confidence tanking, the new NBC News/Wall Street Journal poll out tonight for NBC's Nightly News program shows Bush at his lowest approval rating of his presidency: 40%. This is down 6 points from July. The poll is fresh, as it was taken through Monday.
Among the findings:
-Only 37% approve of Bush's performance on Iraq;
-55% want the number of troops in Iraq to be reduced;
-75% now believe that America is not prepared for a WMD attack.
Then there is this:
When asked to choose between rebuilding Iraq and establishing a democratic government there or rebuilding New Orleans and the Gulf Coast, 60 percent of respondents said New Orleans is the greater priority, while just 5 percent mentioned Iraq. Thirty-four percent said both are equally important.
On a somewhat similar note, 45 percent believe that reducing spending on the Iraq war is one or two actions that should be taken to pay for the Katrina relief efforts. That's followed by 27 percent who want to repeal tax cuts, 12 percent who want to cut federal spending in other areas (such as education), 8 percent who want to increase the deficit and 7 percent who want to raise income taxes.
So is it too much to ask for Democrats to start talking up how we are going to pay for the Katrina rebuilding and the need to reevaluate the Iraq blank check and Bush tax cuts?