Monday :: Apr 17, 2006
Gallup Has Bush Down Again To 36%; Congress Much Lower
by Steve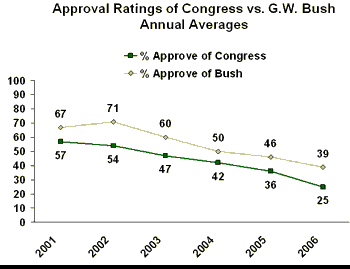 >
Gallup's latest poll out this morning, taken last week between Monday and Thursday, shows that Congress receives its lowest approval ratings (23%) of the Bush presidency. For his part, Bush's approval rating has fallen back down to 36%, matching the lowest in a Gallup poll. This poll had a sample of 35% Democrats, 33% Independents, and 31% Republicans, which is a typical Democratic advantage found in other pollsters since the 2004 election. For those of us who always wondered what Gallup's results on Bush's approval rating would look like if they had a similar sample breakdown as other pollsters, now you know.
Note the rating that independents give Congress, and you can see that the stage is set for Democratic gains in many swing districts this fall. Gallup had this finding as well:
This downward trend in Congress approval is parallel to the decline in public approval of President George W. Bush over the same period. Although ratings of Bush are consistently higher than those for Congress, the similar changes in approval suggest that Americans closely associate the performance of the Republican-led Congress with Bush's performance.
This means that Democrats will be able to tie the rubber-stamp GOP congress to Bush this fall, and make an argument for new blood and new congressional leadership these last two years as a check and balance against Bush and a force for positive change.
Graphic courtesy of Gallup