Friday :: Jun 5, 2009
Van Gogh's Ear (A Photoblog)
by Turkana
Vincent Van Gogh's turbulent and tragic life makes for romantic legend, and much of it is true. But one common misconception is that he cut off his ear over the love of a woman. In fact, the official story long has been that he cut it off after a fight with his sometime friend, Paul Gauguin. The official story now has been called into question.
From The Guardian, in May:
According to official versions, the disturbed Dutch painter cut off his ear with a razor after a row with Gauguin in 1888. Bleeding heavily, Van Gogh then walked to a brothel and presented the severed ear to an astonished prostitute called Rachel before going home to sleep in a blood-drenched bed.

But two German art historians, who have spent 10 years reviewing the police investigations, witness accounts and the artists' letters, argue that Gauguin, a fencing ace, most likely sliced off the ear with his sword during a fight, and the two artists agreed to hush up the truth.

In Van Gogh's Ear: Paul Gauguin and the Pact of Silence, published in Germany, Hamburg-based academics Hans Kaufmann and Rita Wildegans argue that the official version of events, based largely on Gauguin's accounts, contain inconsistencies and that both artists hinted that the truth was more complex.

Van Gogh and Gauguin's troubled friendship was legendary. In 1888, Van Gogh persuaded him to come to Arles in the south of France to live with him in the Yellow House he had set up as a "studio of the south". They spent the autumn painting together before things soured. Just before Christmas, they fell out. Van Gogh, seized by an attack of a metabolic disease became aggressive and was apparently crushed when Gauguin said he was leaving for good.
Van Gogh had wrapped the ear in paper, and when he handed it to Rachel, asked her to "keep this object carefully." Van Gogh soon was taken into custody, and placed in a hospital, where his mental state was far worse than his physical. The hospital is now a cultural center known as Espace Van Gogh.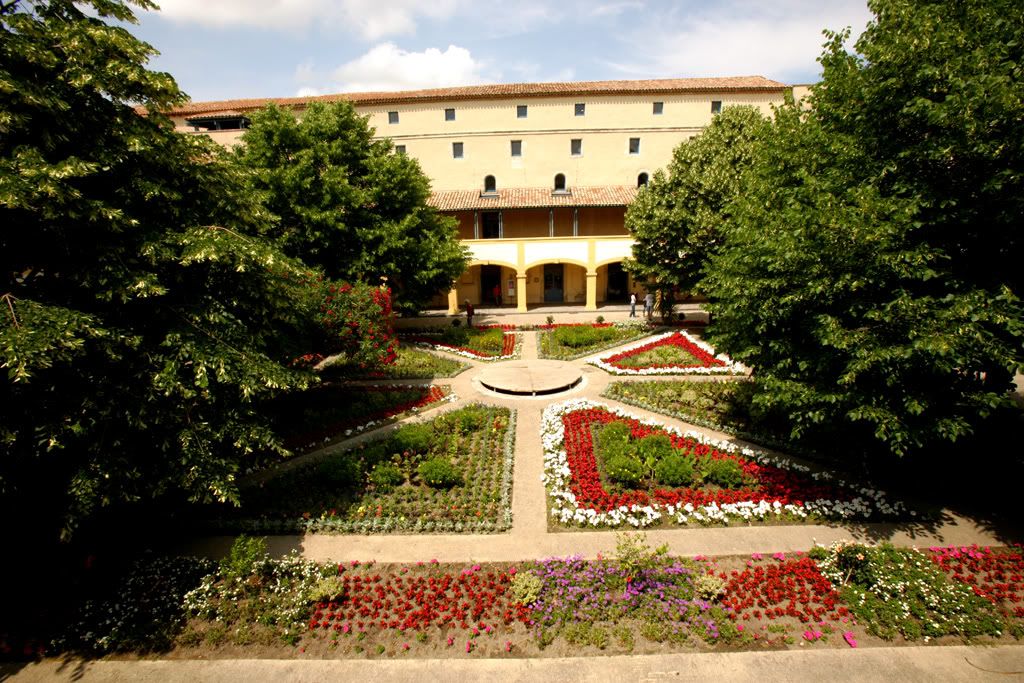 Van Gogh had arrived in Arles in early 1888.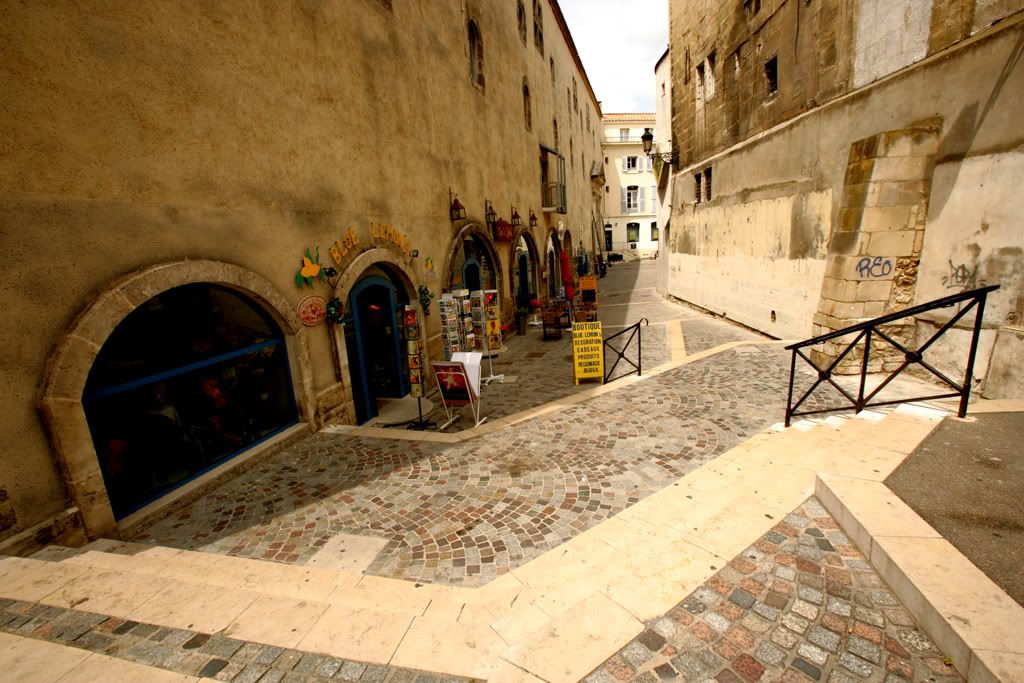 The Yellow House stood just outside the town's medieval walls, near what is now this roundabout.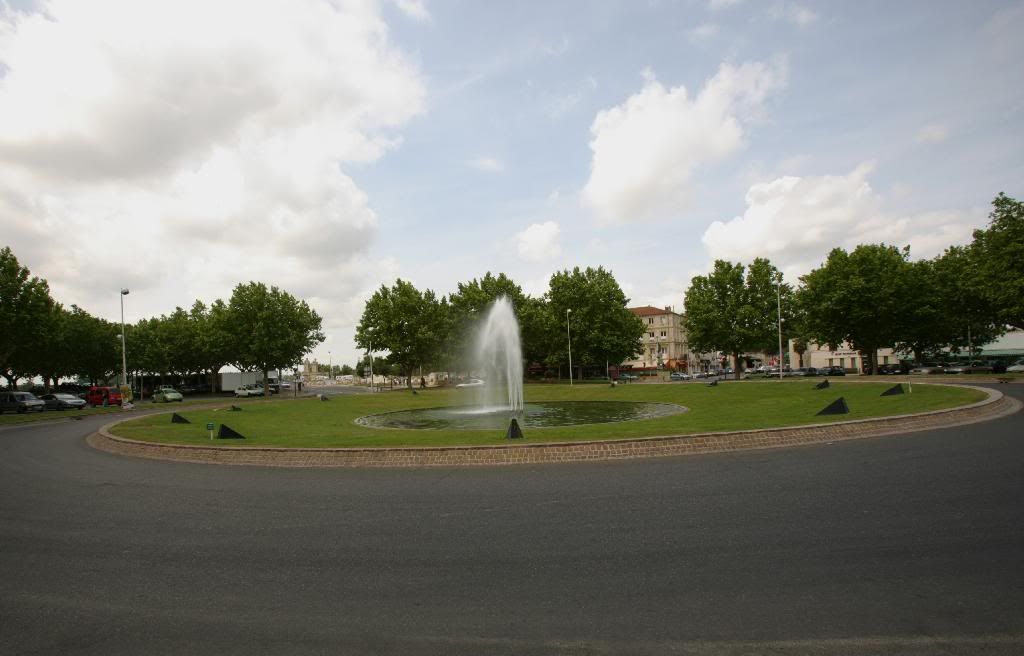 This was the site of the Yellow House. In a letter to his brother and protector, Theo, he wrote:
If Gauguin were to examine himself thoroughly, or have himself examined by a specialist, I don't honestly know what the result might be. I have seen him on various occasions do things which you and I would not let ourselves do, because we have consciences...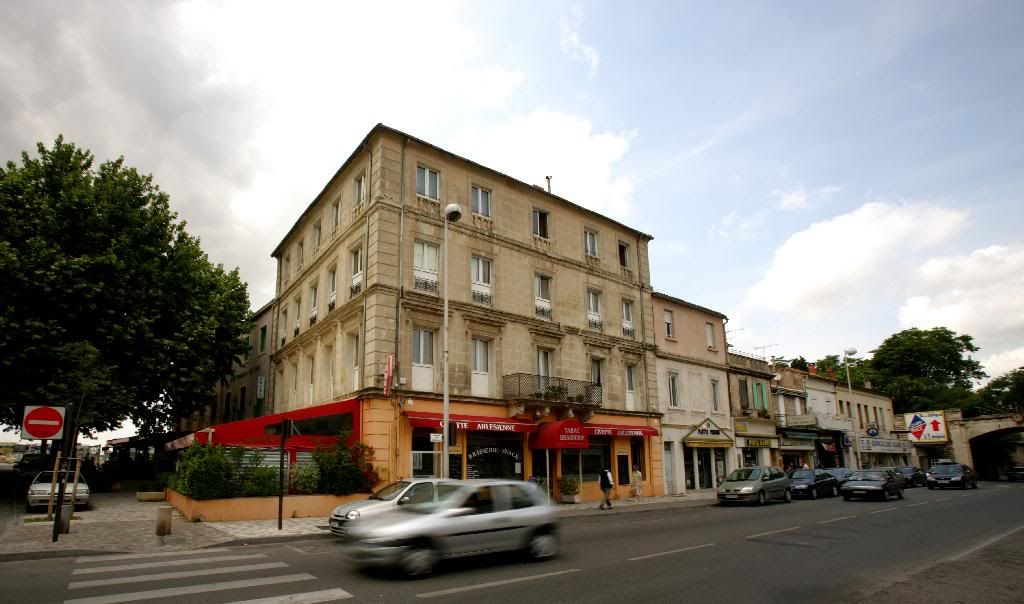 Among Van Gogh's works in Arles were a few paintings from the town's Roman necropolis, Les Alyscamps. They can be found here, here, and here.
His painting of this cafe at night can be seen here.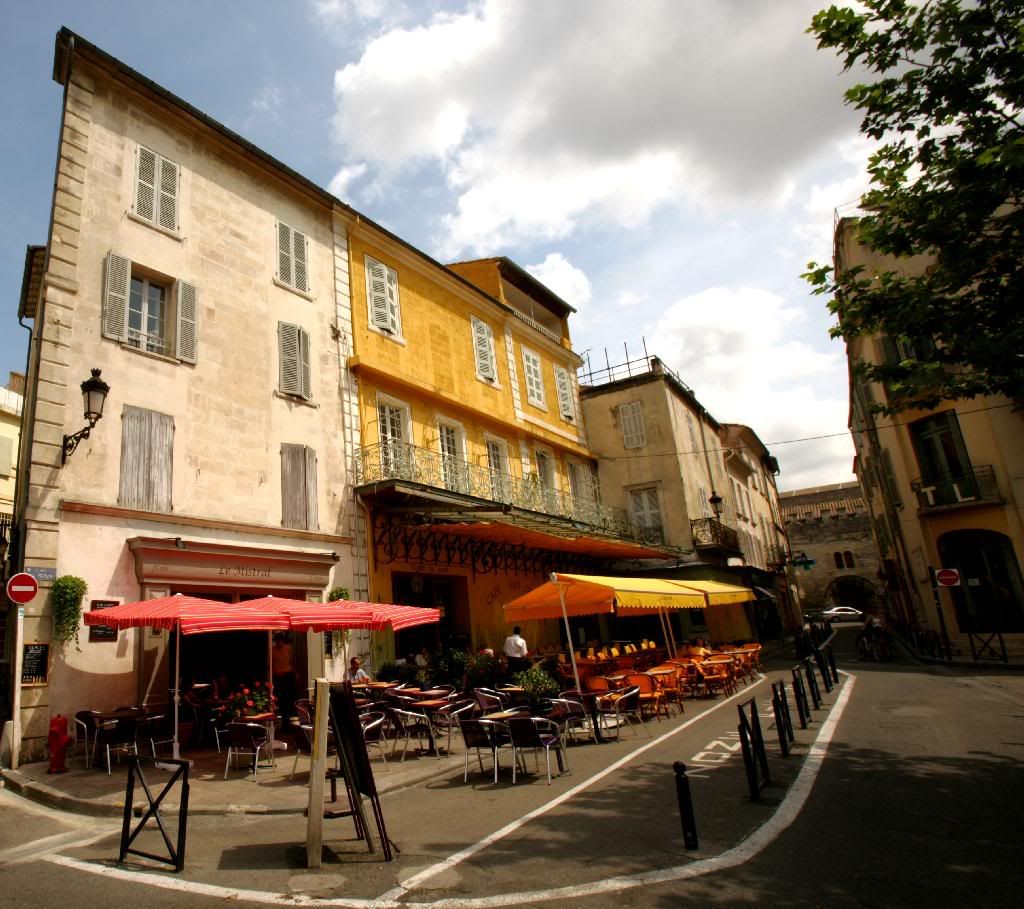 Van Gogh painted from memory a bullfight in the town's great Roman amphitheatre. The painting can be seen here.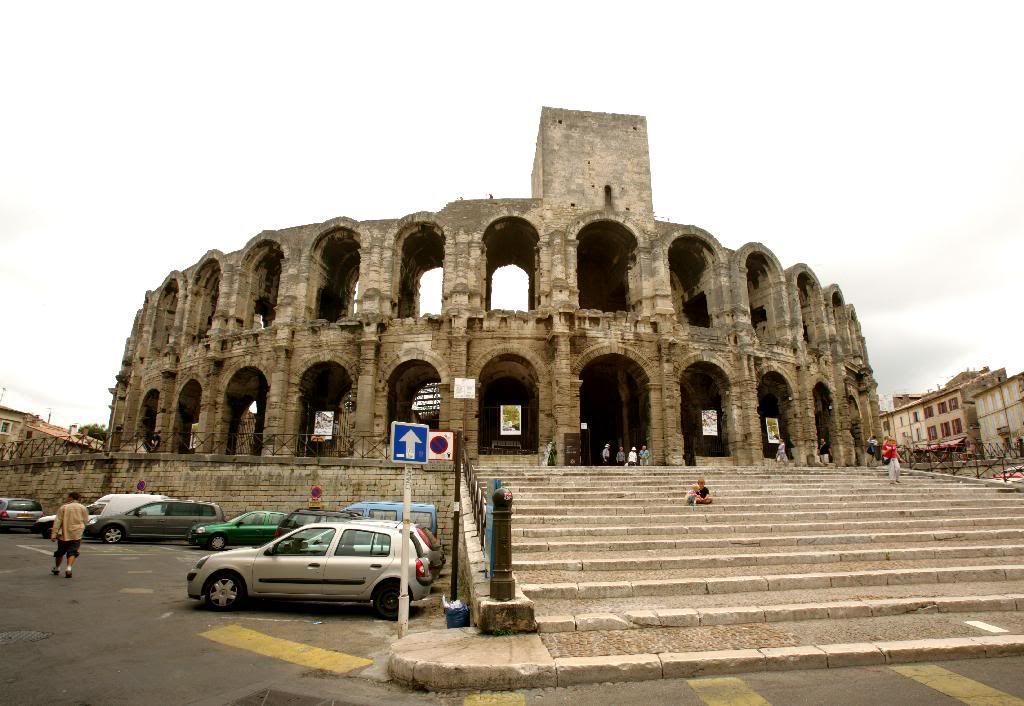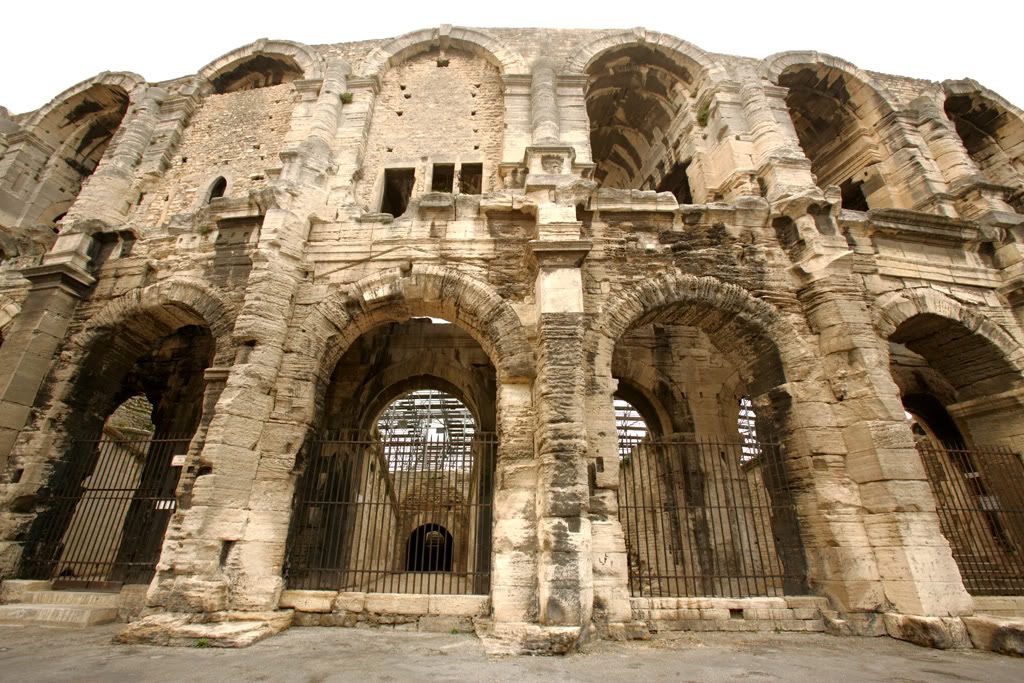 Van Gogh didn't like the great Romanesque church St-Trophime, but its portal is considered to be a masterpiece of Romanesque sculpture. Helen Gardner:
Here, the rigid lines of the architecture of the facade as a whole (rather than just an enframing element, such as a tympanum) now are determining the placement and look of the sculpture, and the freedom of execution appropriate to small art has been sacrificed to a simpler and more monumental adjustment to architecture."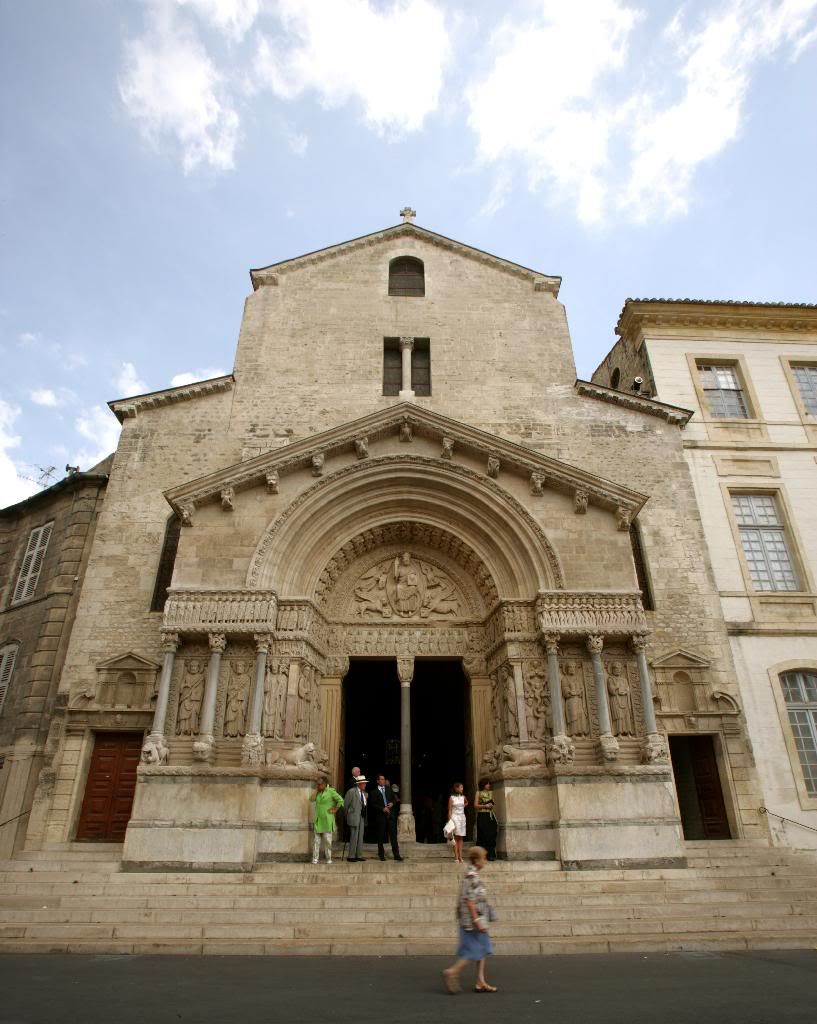 Van Gogh's psychological state continued to deteriorate, after he left the hospital. Locals thought him a dangerous madman. He was forcibly institutionalized, then released. In May 1889, he had himself committed to the mental hospital at the former monastery of Saint-Paul-de-Mausole, near the tiny medieval village of St-Remy.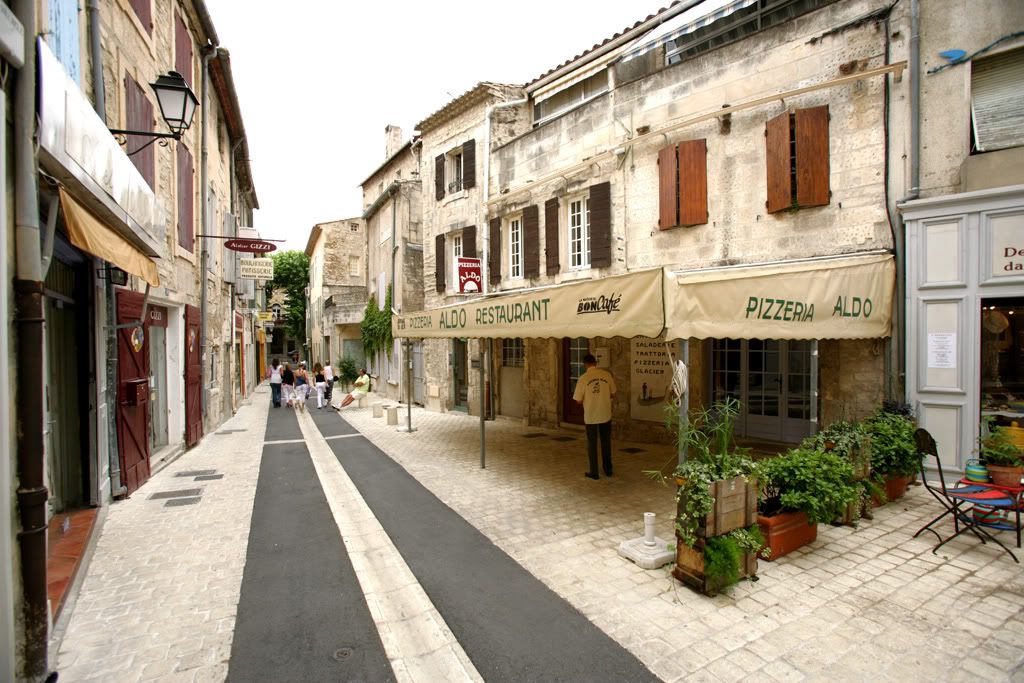 In a May 1889 letter to Theo, he wrote:
I think I have done well to come here, for by seeing the actual truth about the life of the various madmen and lunatics in this menagerie, I am losing the vague dread, the fear of the thing. And the change of surroundings is doing me good.

The idea of work as a duty is coming back very strong, and my faculties for work will also come back to me fairly quickly. Yet work often so absorbs me that I think I shall remain absent-minded and awkward in shifting for myself the rest of my life.
The hospital is still in use, but it is open to visitors. Van Gogh continued to paint, creating some of his most famous works, including The Starry Night.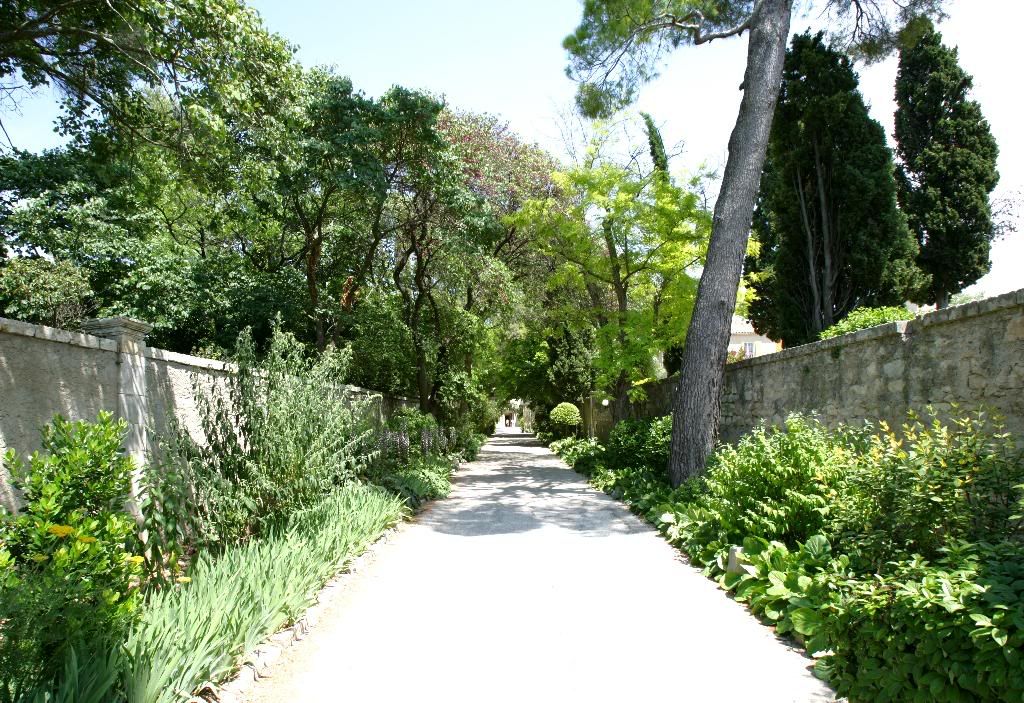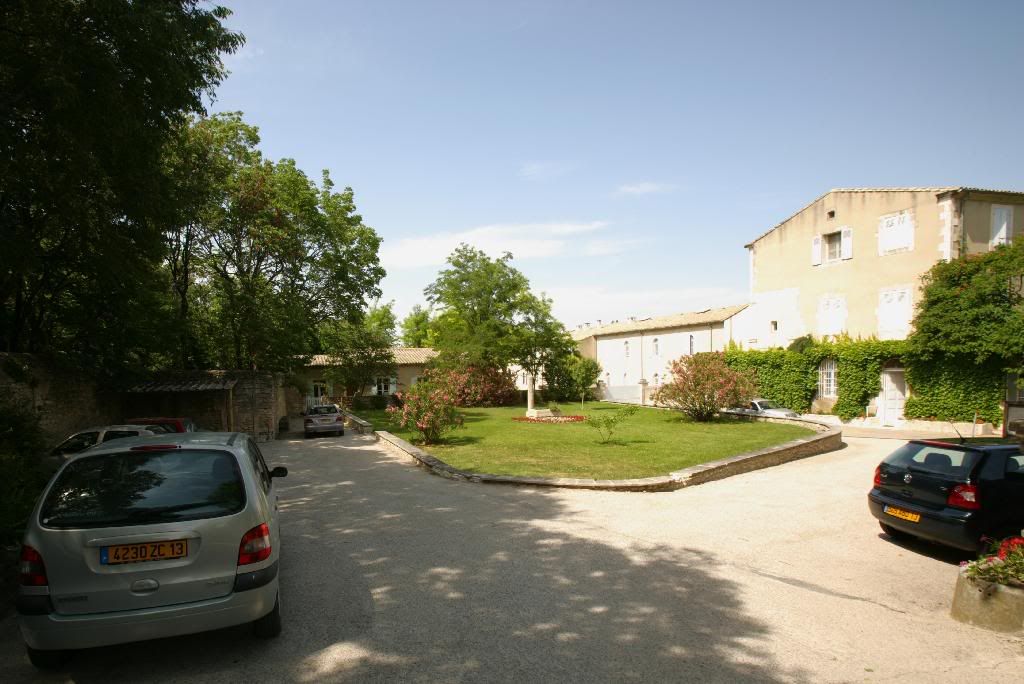 The monastery cloister dates to the 11th and 12th Centuries CE.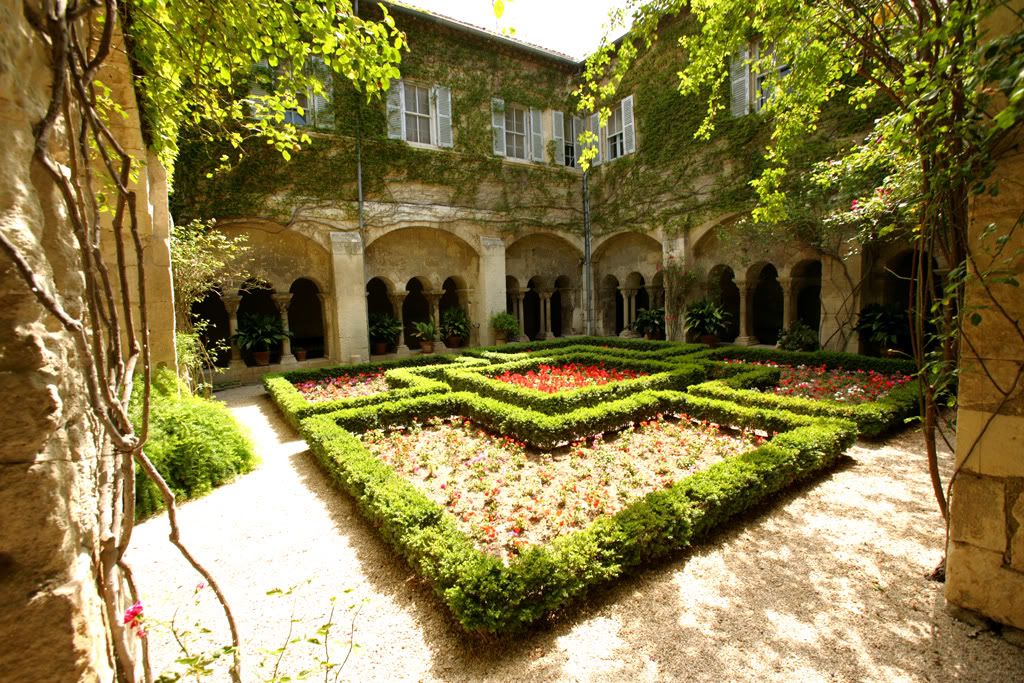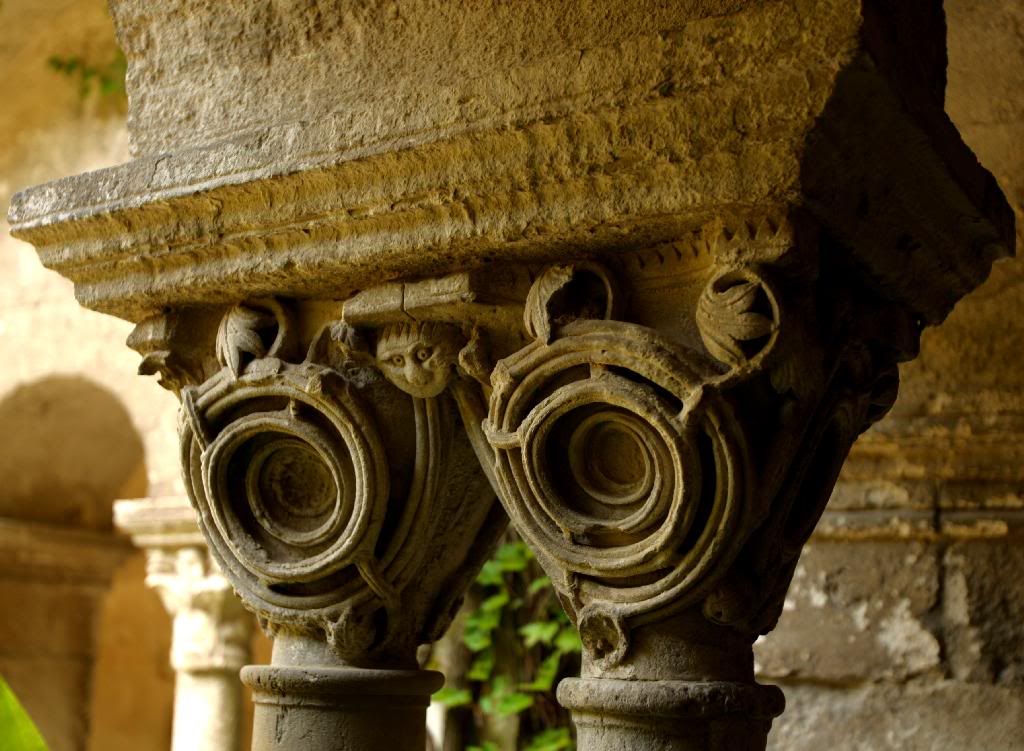 Van Gogh's room is still occupied by patients, but a facsimile can be viewed in a similar room. He likely would have seen views such as this, from his window.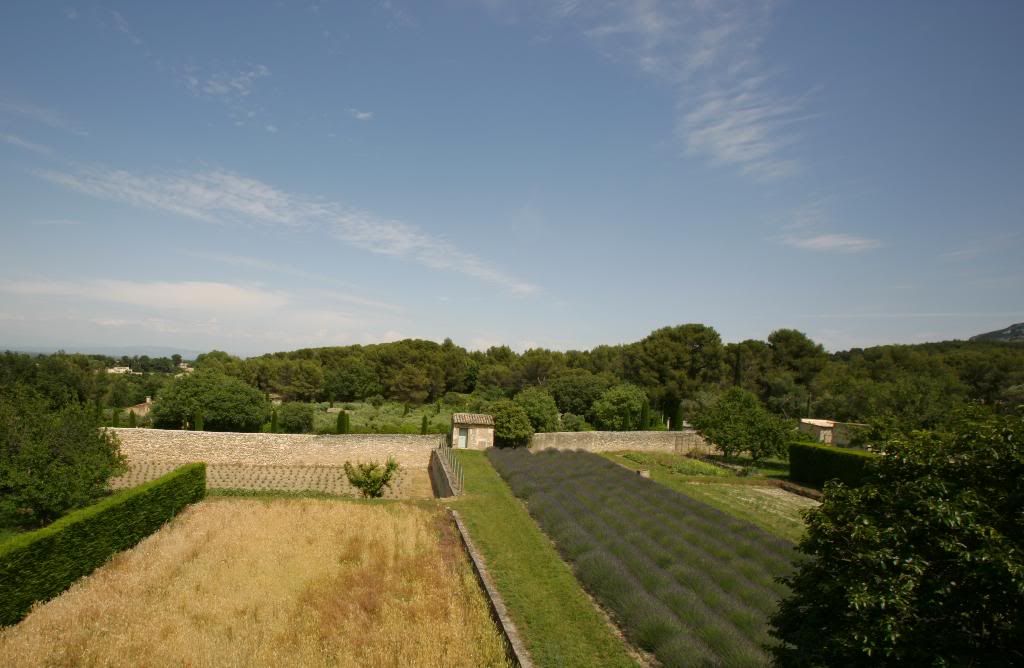 The hills, viewed from the entry.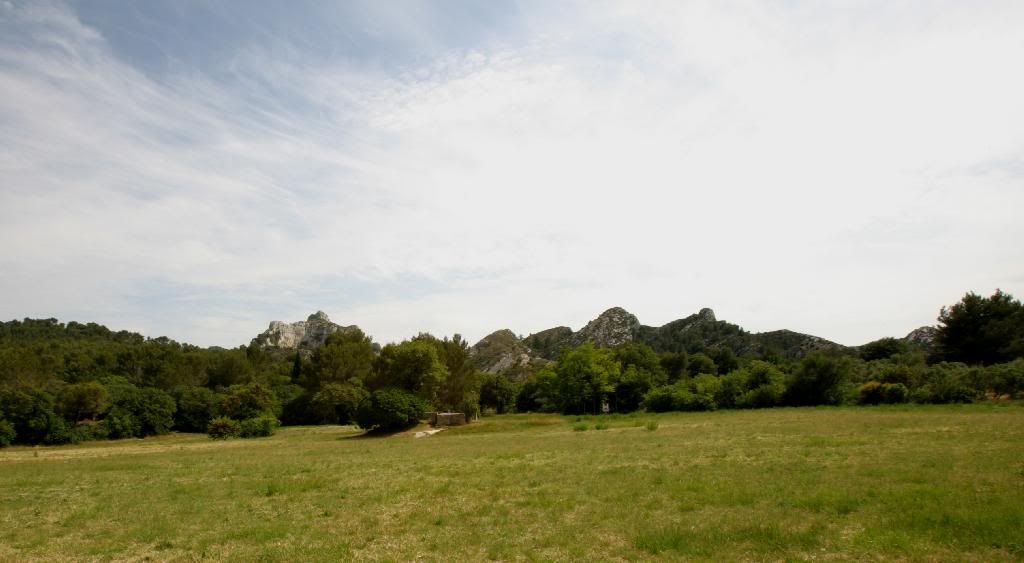 Maybe a ten minute walk from the monastery is the archeological site from the 1st Century BCE Gallo-Roman town of Glanum.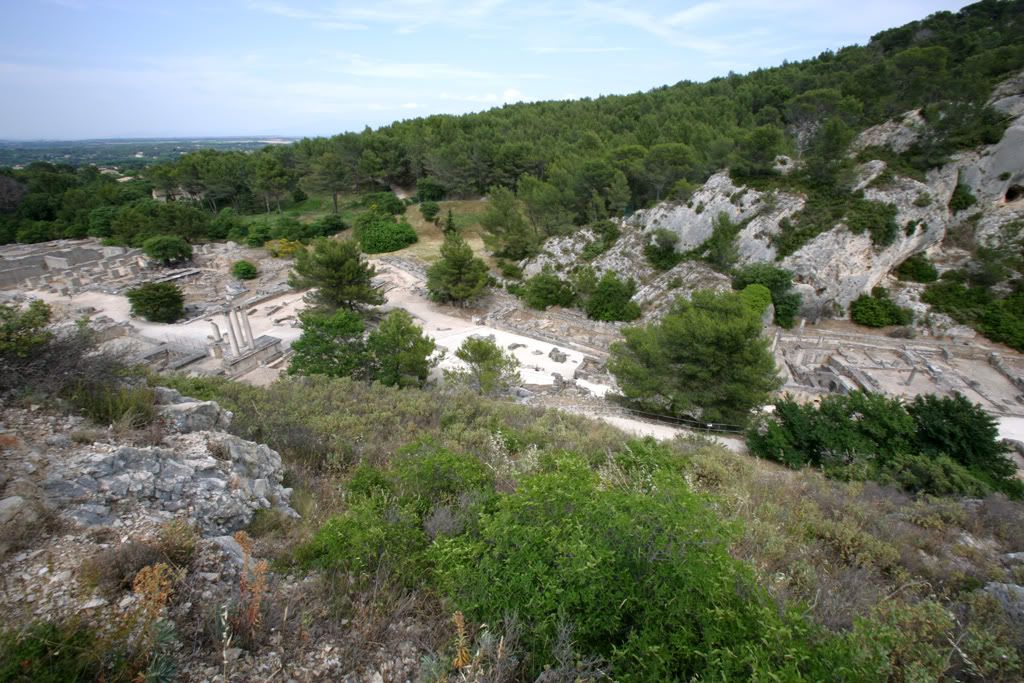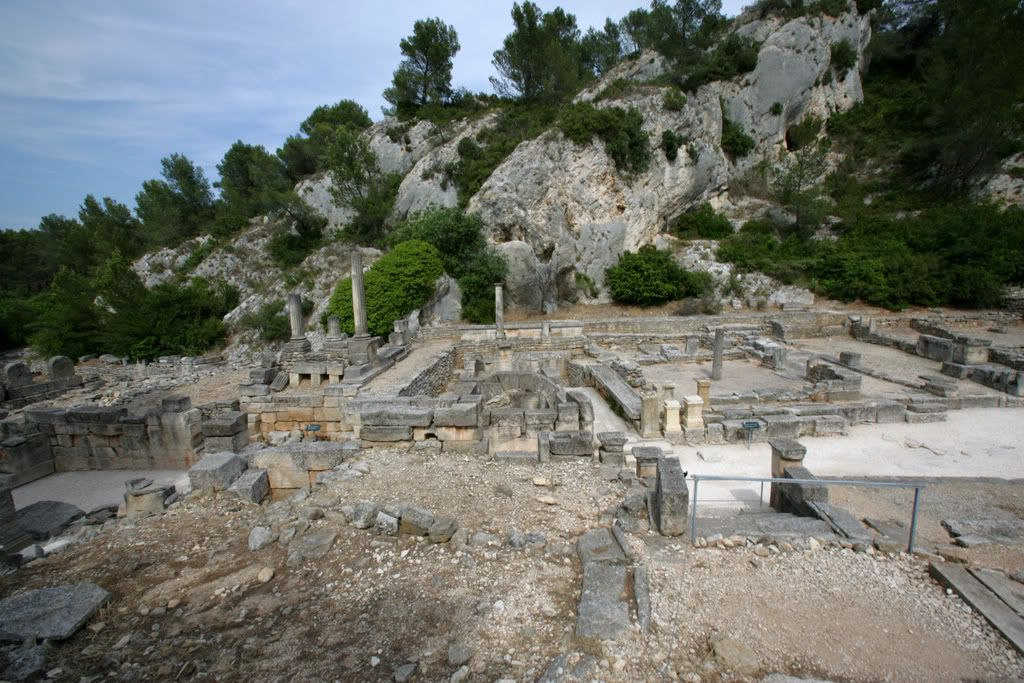 Theo eventually moved Vincent back north, to Auvers-sur-Oise, where he remained in a doctor's care. In July 1890, he walked out into a field and shot himself in the chest. Two days later, he died.