Tuesday :: Jun 21, 2016
Running on Empty
by Deacon Blues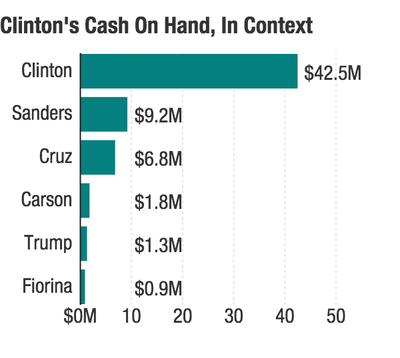 Image courtesy of NPR
Yes, it is mindboggling to see that Donald Trump's fundraising is virtually nonexistent, and that he starts the general election campaign flat broke. However, despite claims to the contrary from the center-left media, Trump has poured $46 million of his own money into his campaign, and claims today that he is willing to put more money in. It's just that the fundraising machine needed to run a countrywide effort in tandem with the RNC needed to be in place and generating some funds by now, but clearly it isn't.
Perhaps it is just one more sign of the emerging yet obvious conclusion: Trump never thought he'd be in this situation a year ago.
Lastly, when you antagonize the national papers and exclude them from covering your campaign, you only motivate them to go after you even harder, and get quotes from insiders that make you look bad.
Update: One of Trump's lines of attack against Hillary and Bill are his allegations today and previously that she used her official position as Secretary of State to benefit the family, a claim that has already been debunked. Given Trump's own enriching of himself through the campaign, that line of attack is now kaput.