Thursday :: Aug 25, 2016
Hillary Crosses 50%
by Steve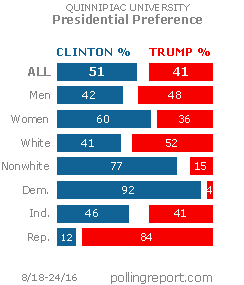 Image courtesy of PollingReport.com
The latest Quinnipiac University national poll
of likely voters
, taken through yesterday, shows that Hillary Clinton
has a 10-point lead
over Donald Trump, crossing the 50% line with a lead of 51%-41%. The poll had a large sample size and a small margin of error of less than 3%. Again, this poll was taken after the latest revelations about more missing Clinton emails and after
overhyped revelations
from the AP about alleged pay-for-play ties between the Clinton Foundation and the State Department. And yet, Hillary now has a 10-point lead amongst likely voters.
I participated in this poll, as the pollster reached me on Tuesday night. The questioning took about ten minutes, and included at least half-dozen questions specifically targeting Clinton and her negatives, questions that were not asked about Trump. And yet the poll reveals a 10-point lead for Clinton, even after the leading questions.
I've said this before, and I will say this again: put a fork in him; he's done.