Sunday :: Jul 16, 2006
Mexicans Demand a Recount
by Mary
Voters in Mexico are not passively waiting to see whether the special election tribunal will serve democracy well and order a recount of the votes. Today an estimated million people flooded the streets of Mexico City demanding that the votes get recounted. This is an election strangely reminiscent of Florida 2000: where the vote count was extremely close (less then 0.6% difference), where there is strong evidence of fraud, and where the PAN candidate, Felipe Calderon, has boldly declared himself victor despite the uncertainty. Today's protest showed the extent of the outrage and anger after the strongly disputed election.
The outpouring was by far the largest demonstration yet in support of former Mexico City mayor Andres Manuel Lopez Obrador, a left-leaning populist who claims fraud was widespread in his narrow loss to conservative ruling party candidate Felipe Calderon.

The rally, possibly the largest in the city's 681-year history, seemed to boost the political case for a recount, if not the legal one, which is now before a special election tribunal. Organizers of Lopez Obrador's Party of the Democratic Revolution, known as the PRD, distributed copies of newspaper editorials worldwide calling for a recount, if not for Lopez Obrador then to affirm Mexico's nascent democracy and Calderon's victory.

Lopez Obrador called on his followers to continue a nationwide campaign of "passive civil resistance in the defense of democracy."

The protests will end, he said, when there's a recount.

Calderon denies any fraud and opposes a recount, saying that recent elections in Germany and Italy were closer than his. Uncertified results give him a margin of victory of fewer than 244,000 votes out of 41 million.
Despite concerns about possible violence and social unrest, police reported no serious incidents among the festive columns of marchers converging on the Zocalo, Mexico City's historic central square.

"Demanding a recount of every vote is not violence, it is democracy," said Mexican actress and political activist Jesusa Rodriguez, one of the leaders of the march. "It is those who oppose a recount are who are complicit in violence."
Yes, if the vote was counted fairly, then there should be no problem holding a recount. Mexicans want to believe that their country finally can solve problems democratically, but that will not happen if people do not have confidence in the election results.
For Americans who know how an election can be stolen, it is not surprising to see little in our media exposing what is happening in Mexico today. Our news reports that Bush has already congratulated Calderon despite the problems with the election. However, if you really want to get an understanding of why the Mexicans believe there was fraud and what they are hearing and seeing on their media, you can do no better than read Al Giordano's dispatches:
Part I: In Mexico, 2.5 Million Missing Votes Reappear: López Obrador Reduces Calderón's Official Margin to 0.6 percent

Part II: A Full Recount Would Show that López Obrador Won Mexico's Presidency by More than One Million Votes

Part III: Death by Video: Mexico's Election Fraud Is Coming Undone
Here's a chart showing the vote counts vs a more linear projection of what the votes would be as the numbers of votes approached 100%. They explained the discrepancy as one northern state had their results counted late. It reminds me of the huge rush of Christian Conservatives which supposedly explained the massive vote shift from afternoon voting projections for Kerry to the "win" for Bush at the end. Interestingly, there is no more evidence that the strange results had anything to do with the timing of the vote counting for the northern state than those mysterious voters who came out en-mass for Bush in 2004.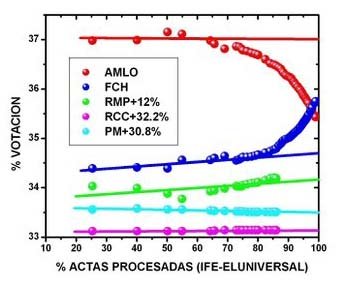 It is hard to believe that the Mexican people will accept the theft of an election quietly. Perhaps we citizens of the USA can learn something from them.