Tuesday :: Jul 25, 2006
Gallup Dismisses 3-Point Drop In Bush's Approval From Just Two Weeks Ago
by Steve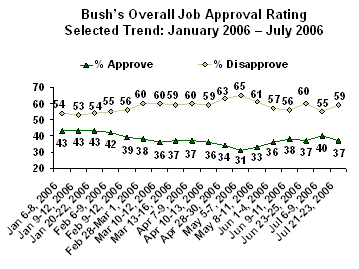 Gallup graphic
The latest USAT/Gallup poll out today shows Bush's approval rating falling 3 points since reaching its recent high of 40% just two weeks ago. Gallup reports that his disapproval rating is now back up 4 points in just two weeks as well. His three-point drop to 37% is spun by Gallup as follows:
A new USA Today/Gallup poll finds 37% of Americans approving of the way Bush is handling his job as president and 59% disapproving. Despite many extraordinary events dominating the news over the past weeks -- including the ongoing conflict between Israel and Hezbollah in Lebanon and Bush's high-visibility trip to Europe -- this slight drop from the 40% approval rating measured earlier in the month is not statistically significant and falls within the margin of error between the two surveys. The current 37% rating is similar to his average approval rating of 37% for all of June.
Bush doesn't break 40% approval on any issue except fighting terrorism, but even his 47% rating there has fallen four points since June.
The poll had a sample made up of 37% independents, 33% Democrats, and 29% Republicans.