Tuesday :: Mar 6, 2007
Gallup: Bush Drops To 33%; Nearly 6 In 10 Want Out In One Year
by Steve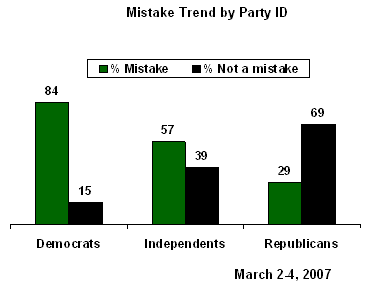 Gallup graphic
Gallup's latest poll, taken March 2-4, which had a sample comprised of 37% independents, 35% Democrats, and only 27% self-identified Republicans, finds the following, in addition to Bush's approval rating falling back to 33%:
A record-tying number of Americans now say that the Iraq war was a mistake and less than half say the U.S. can win the war, a record low number. Almost 6 out of 10 Americans want troops to be withdrawn within 12 months.
At the same time, a majority disapproves of congressional legislation that would cut off funds for troop increases in Iraq or revoke authority granted in 2002. Instead, new USA Today/Gallup poll data suggest that Americans are in favor of congressional legislation that would set a timetable for withdrawal of all U.S. troops from Iraq by the end of next year.
Over three-quarters of Americans also support Congress both requiring U.S. troops to come home from Iraq if Iraqi leaders fail to reduce violence in that country and also requiring U.S. troops who served in Iraq to remain home for one year before being redeployed there.
The poll has some good information on what the public thinks the government should do:
The March 2-4, 2007 poll asked Americans if they favor or oppose Congress taking six different courses of action in regards to the war in Iraq. Only 37% support Congress denying the funding needed to send any additional troops to Iraq, and only 44% say they favor Congress voting to revoke the authority it granted President Bush in 2002 to use military force in Iraq.
There is widespread support, at the three-quarters level or higher, for two actions: (1) requiring U.S. troops to come home from Iraq if the Iraq's leaders fail to meet promises to reduce violence in that country and (2) requiring troops returning from Iraq to stay in the U.S. for at least a year before being redeployed to Iraq.
A somewhat lower percentage of Americans -- but still a majority -- also support setting a time-table for withdrawing all troops from Iraq by the end of next year as well as putting a cap or limit on the number of troops serving in Iraq at any one time.
But as in other polls of late, a strong majority favor either immediate withdrawal or withdrawal within twelve months.
The American public seems to have settled in on a course of action that would involve a definite commitment to withdrawing troops from Iraq, but not immediately, while rejecting some of the more drastic measures such as cutting off funds for troops or revoking the initial authority to go into Iraq.
Support for the commitment of Americans to congressional legislation mandating withdrawal is found from an update of a separate question in the latest poll that provided Americans with four different plans about what to do with the troops currently stationed in Iraq. Fifty-eight percent say the government should either withdraw the troops immediately (20%) or within the next 12 months (38%). Twenty-six percent of Americans say the government should work to withdraw troops but should take as long as is necessary to do so, and 13% support sending more troops to Iraq.
In other words, Democrats should structure their strategy around making Bush clean up his mess before he leaves office. It appears that America wants this resolved before the end of 2008 and for the country to start the next administration freed of any Bush taint.