Tuesday :: Apr 17, 2007
Half As Popular As Slick Willie
by Steve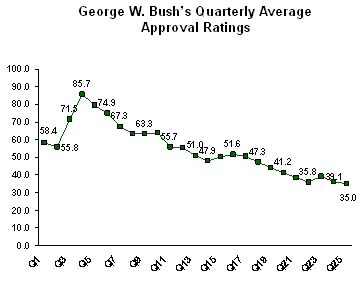 Gallup image
In explaining Bush's declining popularity with the voters, some of his defenders point out that it is expected that a second-term president in his seventh year will see a drop off in public support, even if Bush hadn't criminally led us into the biggest foreign policy debacle of the last 50 years. Today, Gallup tells us that this rationale is garbage.
George W. Bush's presidency reaches a milestone of sorts on Thursday as he completes his 25th quarter in office. But his 25th quarter is not one on which he will look back fondly, given that he averaged only a 35% job approval rating, the lowest quarterly average of his presidency to date.
[snip]
Gallup has computed quarterly averages for 246 presidential quarters since 1945. Bush's most recent quarter ranks near the bottom, placing 228 out of 246, putting it in the 7th percentile.
In fact, Gallup points out that Clinton's 25th quarter average approval rating of 64.6% during the Jan 20-Apr 19, 1999 quarter was the highest of any 2nd term president since Harry Truman. Yet he was impeached by dozens of the same GOP members who aren't the least bit troubled by a president who sent this country to war and 3300 deaths based on lies.
How galling is it for the wingers to find out that at comparative times in their presidencies Clinton was nearly twice as popular as Bush is now, even after the impeachment?